Overview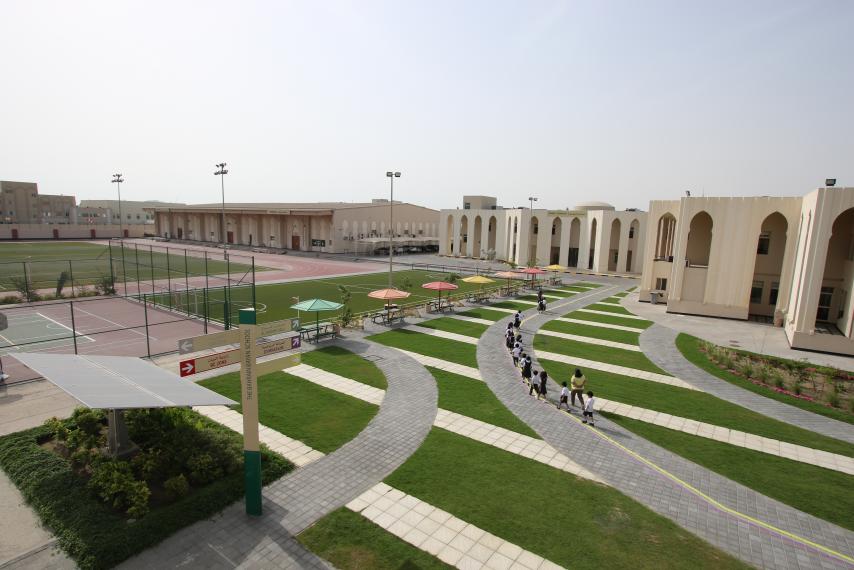 The vision of Bahrain Bayan School is to build a well-rounded environment, by providing a strong academic educational platform and multifunctional recreational facilities. In line with this vision, the school currently has a self-contained campus consisting of the following facilities: pre-school, primary school, middle school, high school, administration, library, and cafeteria.
It also includes a gymnasium/multi-purpose building, Al Bayan Hall, which was built in 2001 and contains a 600-seat theater, two full-size basketball courts, two squash courts, an aerobic dance studio, weight training and fitness center.
Also, through grateful donations the school was able to build a modern running track, in 2011 donated by Batelco Telecommunications, with the support of the school's Board of Trustees and Parent Teacher Association.
Dr. May Bint Sulaiman Al Otaibi Preschool Building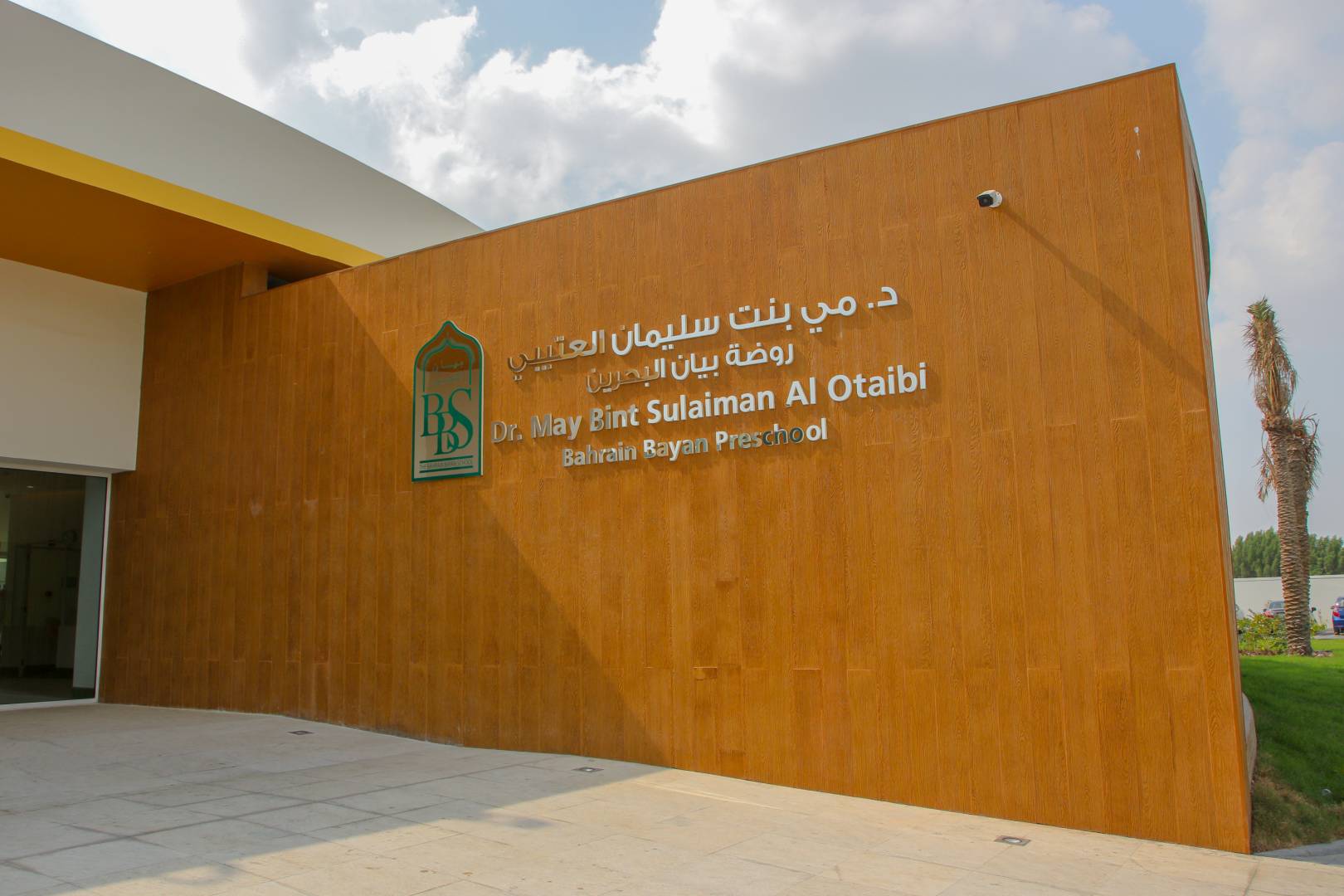 The school has entered into a project to construct a fully-fledged preschool building, located on separate campus. Design of the project commenced during the last quarter of 2016, by a local design house, Intec Bahrain.
The Project was awarded to Mohammed A.Mohsin Al-Kharafi Group (Kuwait), as the main contractor in order to implement this prestigious project.
Construction of the school commenced in May 2017 and was completed in September 2018.
Primary School Complex
The new state-of-art Primary School complex is built with fine and innovative architecture and interior design to enhance the learning experience for its students. It serves from Grade 1 to 5.
AlRomaihi Innovation Hub
The Bahrain Bayan School introduced a revolutionary educational facility to its campus in the academic year 2018/19.
The AlRomaihi Innovation Hub is tailored with a custom built robotics lab (the second on our campus) as well as a Vex robotics.
A new multimedia room (including 4 iMacs for graphic design and a video studio), sound room, Maker space and equipment such as 3D machines, laser cutters and CNC machines are now readily available for our students to use with supervision.
An extensive digital library from several international databases are also included.
The six aspects that make up the AlRomaihi Innovation Hub are:
1) The Maker Space: an open collaborative area for students to work with hands on- tech integration using the following tools, which include but are not limited:
Tools: Arduino Uno Microcontroller, Adafruit Flora v3, Raspberry Pi 3, Circuit Playground Express, BBC Microbit, Breadboards, Toy Motors, Mini Servo Motor, sensors and all the necessary support tools.
Makedo Classroom Kit
Lego Kits
K'Nex Kits
MaKey MaKey Kits
Ozobot Bit & Evo
Sticklets Small Education
Contraptions Kit
Little bits Kits
2) Research Center: Which includes 6 computers for research, a quiet room and has access to the online databases such as JSTOR, EBSCO, Worldbook Online.
3) Equipment Room: Includes Laser cutter, CNC machine/Sewing machines/3D printers and iMacs for design
4) Multimedia Studio: a green screen and fully equipped sound and lighting system with iMacs for design.
5) Sound proof Room can be used for IB oral exams and Radio etc
6) LEGO Robotics Lab/VEX Robotics Lab
Science Labs
Designed to serve the best educational experience possible, our Secondary School building has three dedicated labs for sciences. The Biology, Chemistry, and Physics labs are equipped with best scientific tools and material that allow students to explore and experience science safely.
Safety measurements are our priority, which is why all chemical material are safely stored in Lab Preparation room that is supervised by a full-time lab supervisor.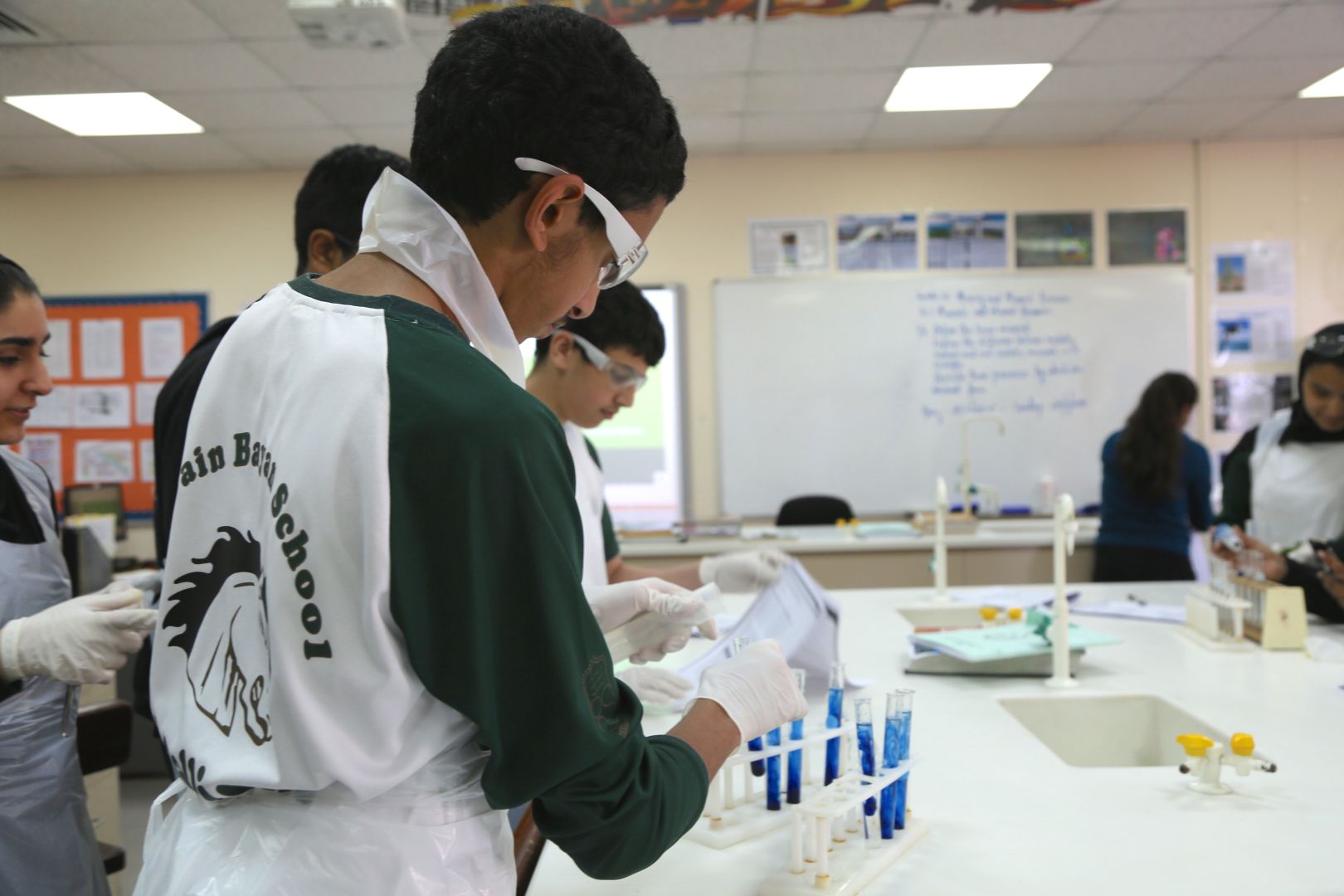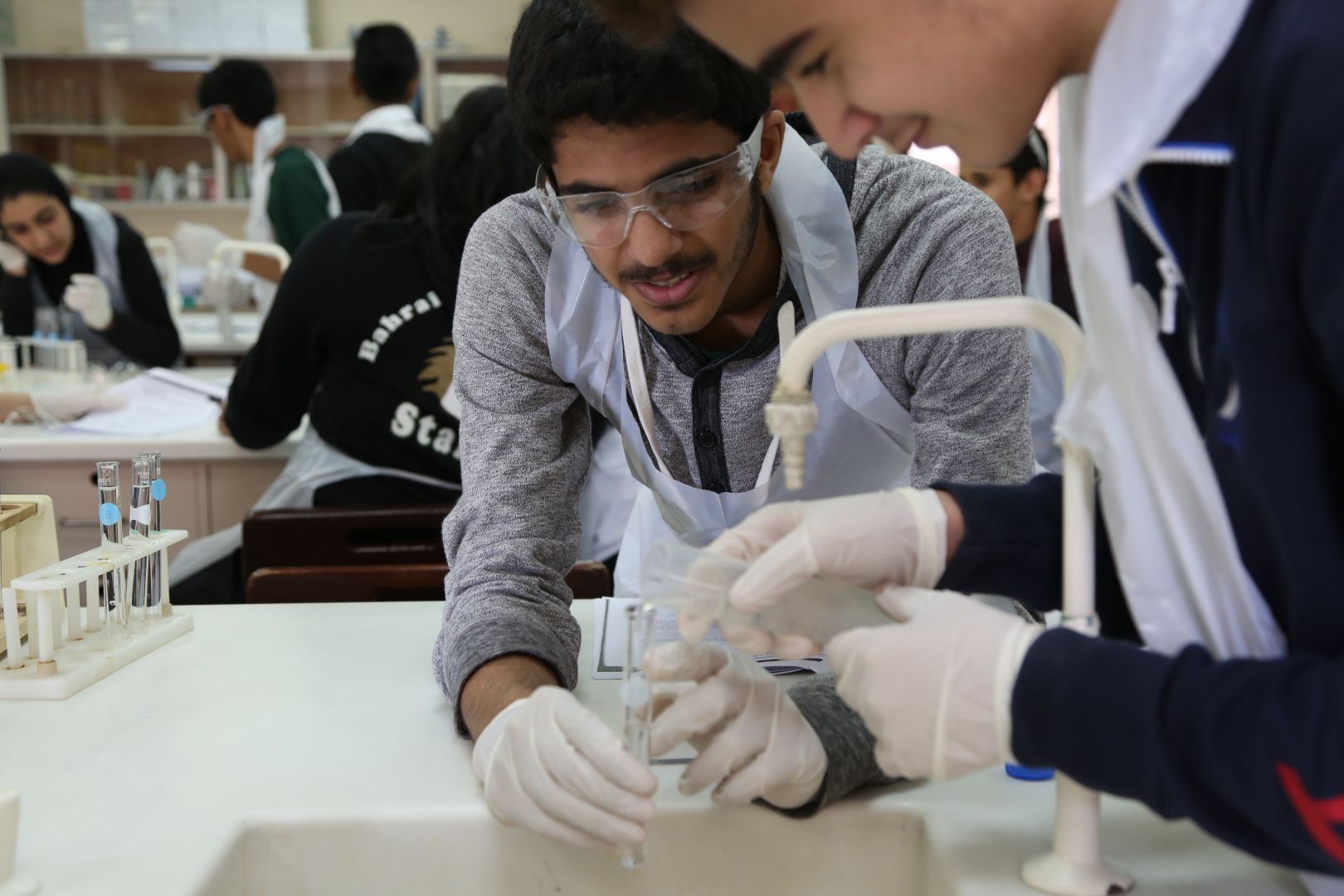 Taking science to the next level, Bayan School has built a new Science building, with three additional fully equipped science labs. In addition to a dedicated lab specifically for the Robotic curriculum, marking Bayan school as the first school in Bahrain to have a functional Robotics Lab.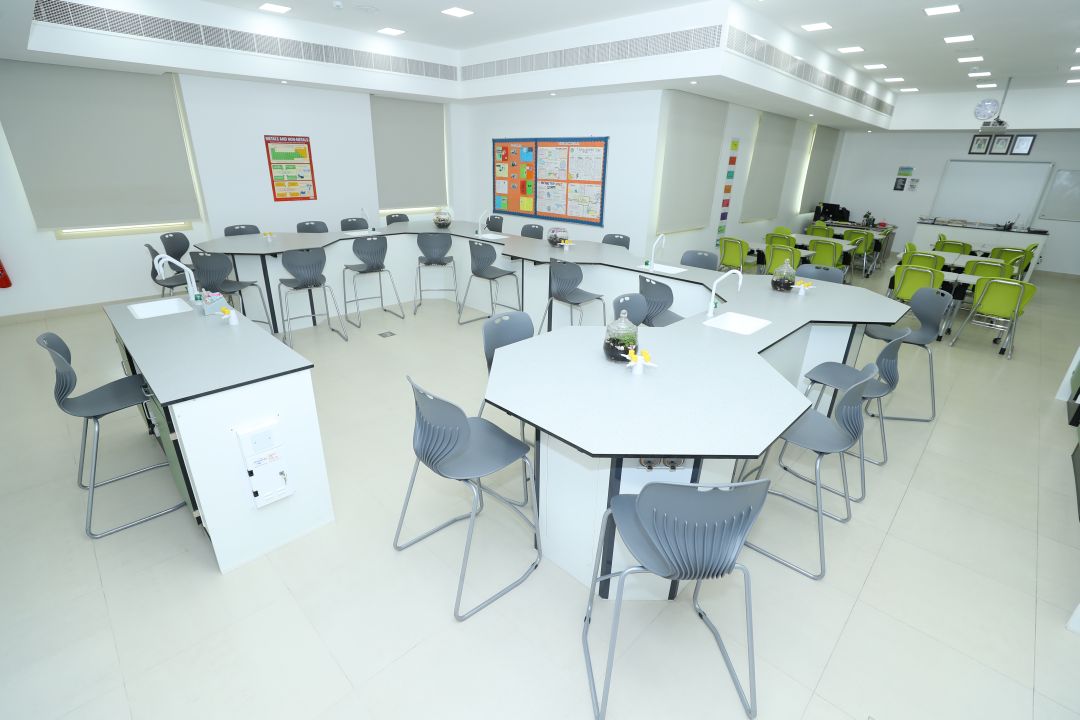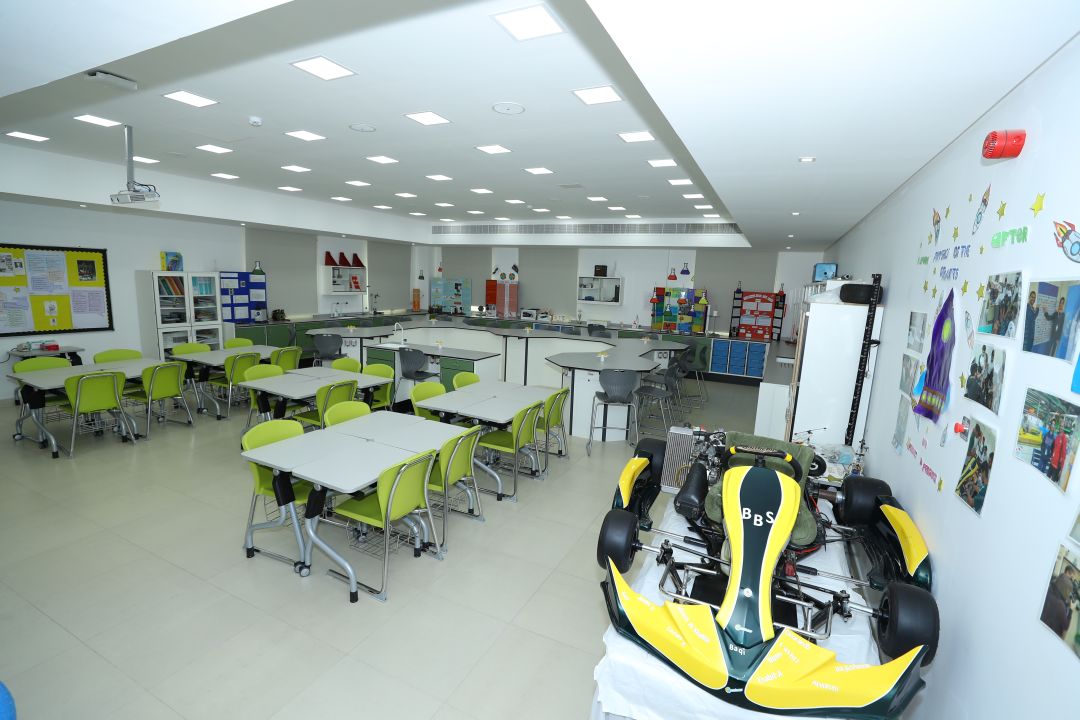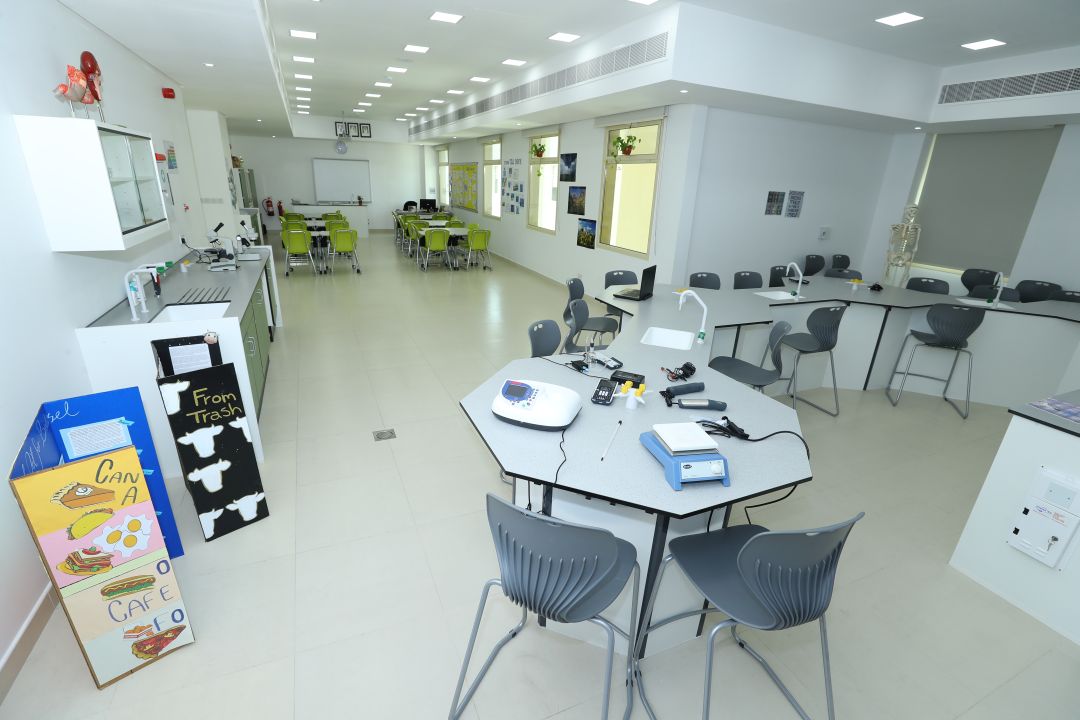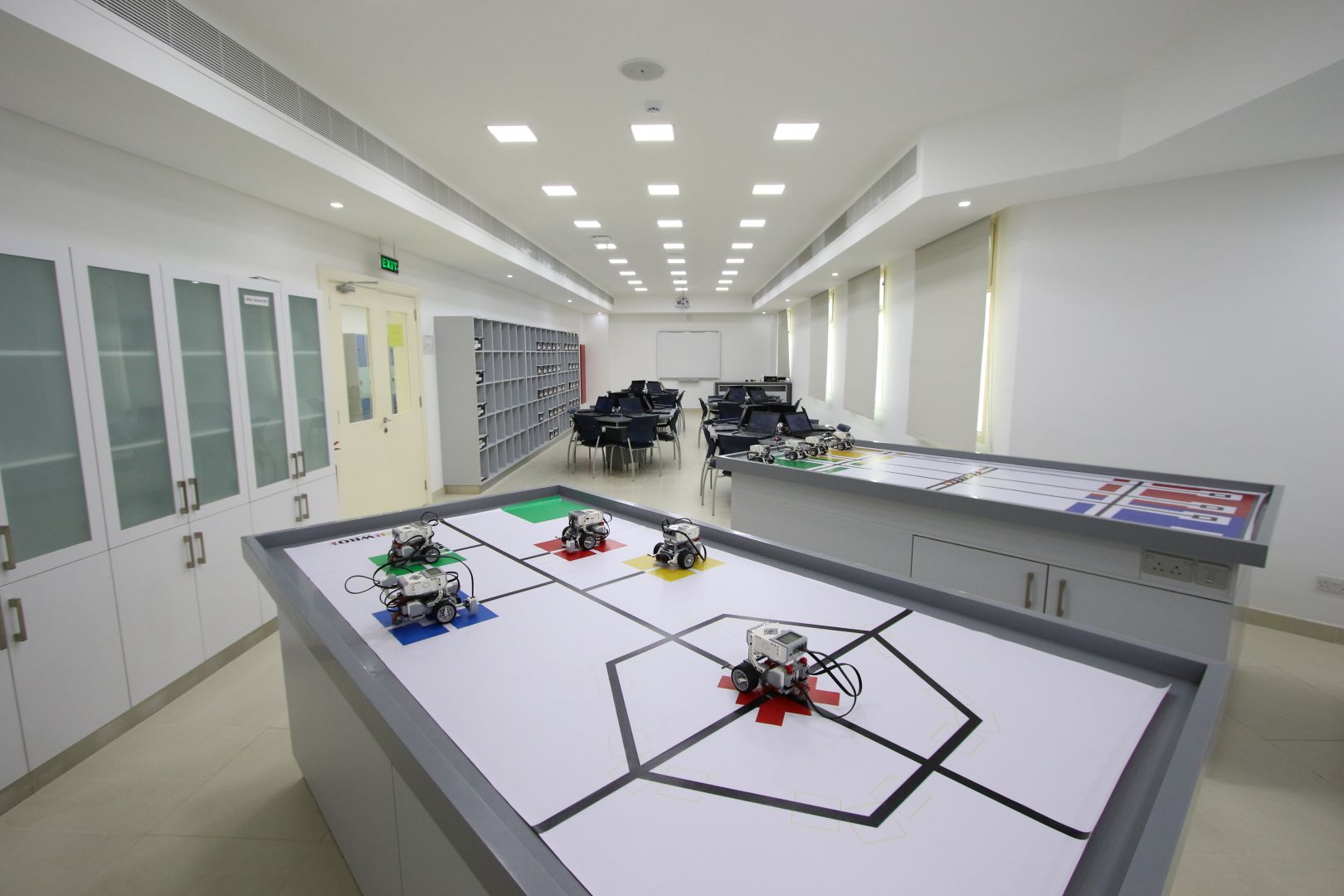 Classrooms
Ensuring a comfortable classroom for both students and teachers is an essential key in enhancing the educational process. In Bayan school, we make sure that it is a safe and colorful environment.
Classrooms are also under constant maintenance and supervision to ensure safety of our students, faculty, and staff members.
Computer Labs
The school is equiped with 4 computer labs. Primary school has two Mac labs that houses 28 iMacs , Two labs are located in the Secondary school and are each equiped with 26 PC's which are Microsoft based.
The AlRomaihi Innovation Hub was also equipped with a research space available for students outside of class time.
| | |
| --- | --- |
| Primary School Labs | Middle School Lab |
| High School Computer Lab | |
Robotics Lab
A dedicated lab specifically for the Robotic curriculum, marking Bayan School as the first school in Bahrain to have a functional Robotics Lab. .
Bayan Mosque
Since its opening in 2012, the Mosque has been viewed by all as a vital and central spot in the Bayan community. It was generously donated by the Al Otaibi Family and has proven to be one of the campus jewels.
The Bayan School mosque is divided in to two prayer rooms, one for girls and one for boys , both equipped with a wash area at each entrance.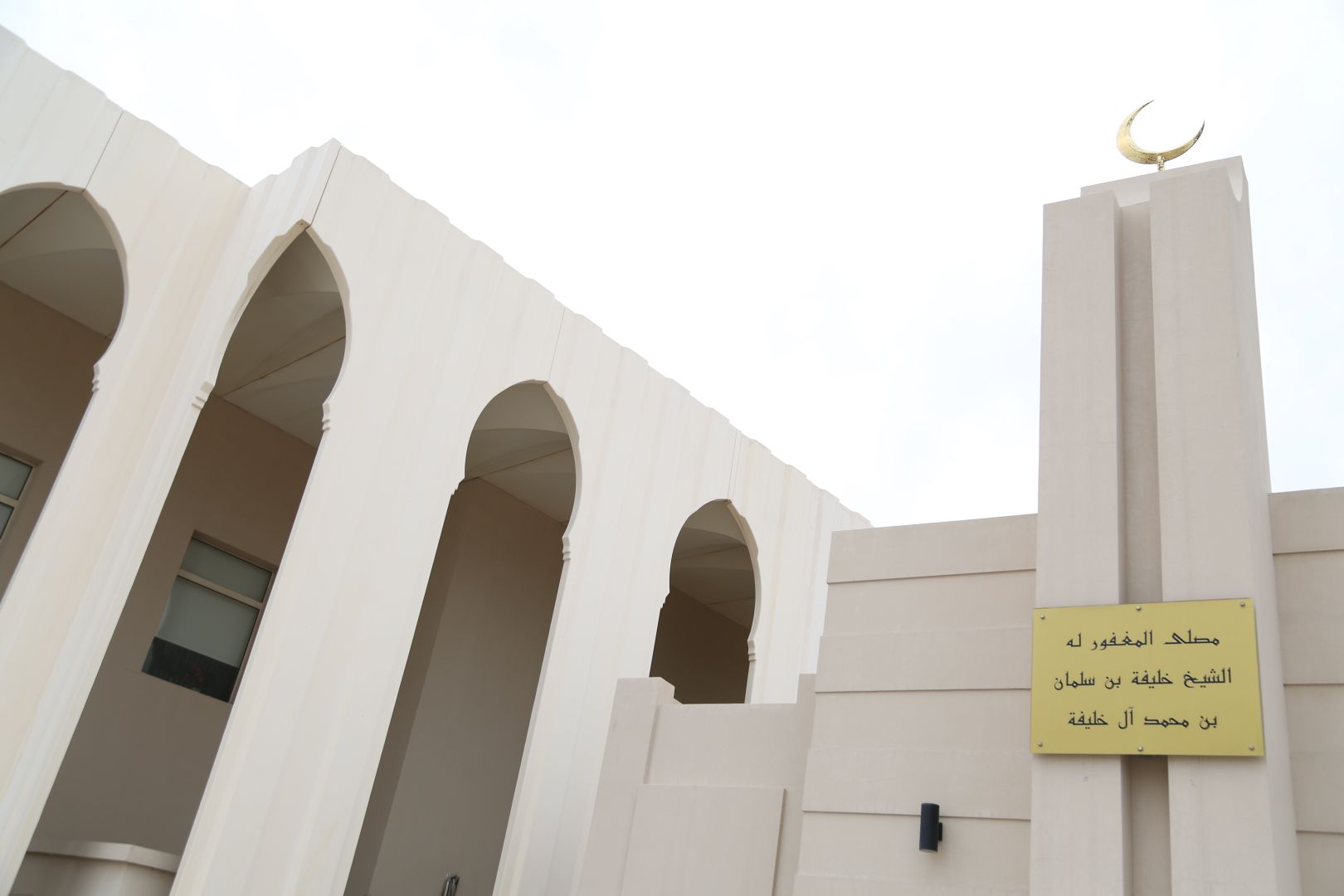 Cafeteria
The cafeteria has been used to serve students, faculty and staff for many years . The food preperation area and large seating area has been utilized for yearly faculty luncheons and other gatherings as well. With the construction of the new science building the school has designated a second cafeteria that will serve as an exclusive area for the higher grade levels in secondary school.
Al Otaibi Hall
From a generous donation by Dr. May and Ms.Haifa Al Otaibi; the Al Otaibi Building was completed in 2012. In which, the hall is mainly used for Physical Education activities of our Primary students. The building also serves as a multipurpose venue for several school events such as the General Assembly, and many other important gatherings.
Al Bayan Hall
Al Bayan Hall is the school's main theater. This multi purpose hall is mainly used for stage performances because of its grand stage which is fully equiped with performance lighting sound and computerized stage curtains. Equipped with an LED screen for presentations making it the ideal location for large informational sessions. The hall has a foldable wall that separates it from Bahrain Hall.